Google Adwords Management Agency Denver
Minds Over Media specializes in Google Adwords Management for businesses in Denver large to small. A well designed and properly managed Adwords Pay Per Click advertising campaign on Google can have a big impact on a company's customer acquisition, sales, revenues, and overall growth.
For maximum effect, it is recommended that both AdWords PPC and SEO be used to achieve the most results. This is particularly important for recently launched websites and small businesses.
Anatomy of Google Search Page
(click on image below for full size).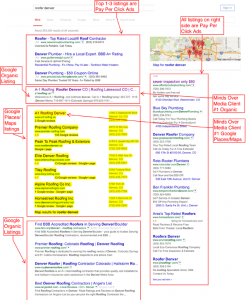 TOP REASONS TO USE GOOGLE ADWORDS
Increase Market Share on Page One
Page one on Google (Bing and Yahoo too) is valuable real estate for any company marketing products and services on the web. If you are not on page one, your percentages of getting people to find you drop significantly. In addition, the more slots you have showing up on page one, the better your chances of getting the calls. Many companies do both SEO and Pay Per Click ads to garner more market share on page one.
Your Website is New and Not Ranked Yet
If your website is new and hasn't had time to rank highly, your website is poorly ranked, or you compete with many similar businesses in your area, Adwords offers you a way to get your company in front of customers on Google page one, Google Places, and mobile immediately. This will allow you to increase your stream of leads and new buying customers.
Acquire New Customers
Approximately 90 percent of people use Google to search for products and services. The search results include your competition, so it's imperative that you get in the game and show up when shoppers are searching.
Minds Over Media can help get you ranked above your competitors in both organic search using SEO, and in the pay per click sponsored ads through professional Adwords campaign management.
Real Time Response
Once your Adwords account is setup, a campaign designed, keywords and budget set, it is activated on a date/time determined by you, and your ads begin appearing to searchers immediately.
Transparency
Adwords reporting allows you to see how many people have seen and clicked on your ads almost instantaneously. We will also provide you with detailed weekly and monthly reports. If you had an ad for 'dentist denver', we can tell you exactly what the ad cost, how much traffic is brought to your website, how long they viewed your website, and how many people took an action such as calling, emailing, filling out an appointment form. We can also compare and contrast results for different ads and keywords, allowing you to analyze the return on investment for different ads. Unlike many Adwords reseller agencies, we provide you with full access to your AdWords account so that you can see all changes being made, costs, and maintain complete control.
Only Pay for Results
Google AdWords offers a "Pay Per Click" system so you are only paying if someone clicks on your ad to visit your website. This also means users will see your ad without you actually having to pay anything – a free impression so to speak.
Flexibility and Control
You can pause your Adwords campaign at any moment if you want to change the parameters of the campaign such as what ads are running, geographies targeted, or your website experiences an outage, or you're on vacation! You can increase your budget one day and decrease it another day. You have complete control and flexibility to make instant changes.
Determine Your Budget
If you want to just test the waters in the beginning, you can set a daily budget of as little as $1 to $500, it's up to you! Your results will be partly determined by your budget, but this is set by you. Minds Over Media can guide you to choose an appropriate budget to make the best return on investment for you. We can show you how many clicks you should receive for a certain cost.
Easy to Pause or Cancel
There are no contracts to cancel or letters to sign. If wish to cancel your AdWords account you can do so online and instantly.
 Place Ads on Mobile, Google Places, Relevant Websites, YouTube, Gmail
We can place your ads on websites with global brand-name recognition. Contact us for more detail on the Google Content Network and Search Network.
Target Locally or Nationally
If you are a dentist in Denver and you want to target people searching for 'dentist' in a 15 mile radius of Denver – you can. If you want to target anywhere in the world, any language – you can. The possibilities are limitless!
Return on Investment
AdWords is well known for it's outstanding return on investment for businesses because you can pay per click and all clicks are traceable. Achieving the ROI you seek does require a lot of time, analysis, experience and skill. If your business needs to get results quickly and you cannot afford to delay, then Minds Over Media's AdWords Campaign Management is the way to go.
Google Adwords Pay Per Click (PPC) Ads Denver
OUR GOOGLE PAY PER CLICKS AD PROGRAM IS BASED ON THE FOLLOWING PRINCIPLES:
Quality Clicks -Our goal is to get you "quality" over "quantity" clicks. Many Adwords Resellers are only trying to get "clicks" and spend your budget, no matter how qualified they are – because they get paid regardless if you get a qualified click or a click from someone that is not really interested in your products or services.
Campaign Design – We set up your campaign properly. With you, we determine the correct budget and correct keywords. This is critical to your campaigns success and results.
Transparent Campaign Management – As a pay per click client, your Adwords management provider should be providing you with all the information regarding the campaign. This includes what the management fees are. Some Adwords reseller firms charge up to 50% markup on individual keywords – so only 50% of your budget is actually going into purchasing keywords, and 50% of your money is going to the management company and the sales rep. This creates significant problems in achieving an ROI you are seeking. At Minds Over Media, we charge our clients a 25% management fee for PPC. If you are currently using an Adwords Reseller, ask them how much of your budget is actually being spent on pay per click ads for your business on the search engines and content networks, and what they charge in management fees. Ask to see documentation and proof. In the past, Google has sent out warnings to their resellers about this very issue because such abuse was tarnishing the name of Google Adwords.
Stated Goals and Results Management – At Minds Over Media, we monitor all the results of your campaign. You are interested what results are achieved, not flowery graphs showing clicks or impressions. You want to know how many customers you acquired and did business with each month as a result of your Adwords campaign.  You need this information provided to you in order to monitor the results you are getting with your marketing dollars. You should require your Adwords Reseller provide you with all of this information. Minds Over Media always provides our clients with all of the numbers that are behind the success of their Adwords campaigns. Our goal is to achieve effective results for your businesses' sales and customer growth.
No Contracts – Any successful pay per click campaign only takes a short time to become a essential marketing tool for your business. At Minds Over Media, we don't require that you sign a contract with us. We don't believe you should have to sign a long term contract until you know that your campaign management company is going to deliver results for you. Clients appreciate not having to sign a long term contract because they are not stuck and required to pay a Adwords reseller that is not performing for them.  No contracts gives our clients peace of mind knowing they only have to continue with the program if it is successful.
Contact Us:
Minds Over Media LLC
303-521-6681 (Denver)
970-306-7876 (Vail)
866-667-8646 (fax)
Email Us