SEO Denver
Are web searchers finding your business or services on search engines such as Google, Yahoo, or Bing? If your website is MIA on the search engines, you are not capturing business that you deserve, and are losing market share. Minds Over Media provides effective SEO services to clients in the Denver metro area, and can help you get high rankings in the search engines. Let us help you turn web visitors into revenue generating customers.
Ranking at the top in search engines and generating highly qualified and targeted leads are necessary for a company to succeed today. Choosing the right SEO partner can have a major impact on your company's long term success.
Minds Over Media's team of SEO experts will develop, implement, and manage your organic ranking and traffic. To succeed in the competitive arena of SEO, companies large and small need a long term search engine optimization strategic plan and management.  Many companies will claim effectiveness in SEO, however, the proof is in the pudding when you ask where they have client websites ranked.
Our SEO solution includes:
Website analysis and SEO Audit to evaluate current website SEO status
Analyze website with SEO Best Practices
Keyword research and target keyword identification
Optimization based on target keywords
Content optimization to support target keywords
Competitive analysis to see where you stack up
Quality link building to build the authority of the website
Website Redesign
In many instances a website redesign is recommended and needed to improve SEO results. A key factor in ranking high on search engines is on-site optimization. We will analyze the existing SEO optimization and incorporate these into the new website, and will improve on additional SEO assets. Understanding your website's current SEO ranking and status, and what opportunities can be provided with a new website will help provide you with a long term SEO solution.
Content Optimization
Link Building
Reporting and Analytics
Keyword rank monitoring and support
Search Engine keyword and page traffic analysis
Weekly SEO Report that provides analysis of key performance metrics
A single account manager for ongoing progress updates
Search Engine Optimization Denver
Minds Over Media provides search engine optimization Denver services for companies small to large. Call us at 303-521-6681 for a free SEO in Denver consultation.
What is SEO?
SEO or Search Engine Optimization means designing and building a website so that it is "search engine friendly" and will be discovered, indexed, and ranked by the search engines. It also means designing each page in such a way, that the site's content will be thoroughly mapped and indexed to keywords that potential customers employ when seeking your products or services. Organic SEO campaigns with Minds Over Media are based on key objectives using all accepted techniques available to professional search engine marketers. By implementing our Organic SEO Services, you will drive more targeted traffic to your website and landing pages. Through optimizing the most valuable pages of each category section and ensuring site pages are properly indexed at each major search engine, our experts will be able to increase overall site traffic and the conversion rates for your website. Search Engine Optimization for profit is not about one-off fixes. From keyword research to SEO strategy with optimized content, site structure, site navigation, link building and monitoring, SEO never stops.
Why Use SEO?
It's a fact, 82% of web surfers will click on the organic search results and only 18% percent will click on the pay per click ads. Studies have shown that the web site in the #1 position (organically) will attract 41% of web traffic, while the web site in the #2 position will attract 9% of web traffic to that page. If there is a difference of 400% + between the #1 and #2 ranked sites in the search engines, imagine the difference between #1 and #17, or if you're not on page one at all!
Organic search engine placement has many benefits. As mentioned above, the organic listing generates more traffic, but that's just the beginning. When you score in the organic search results, clicks are free forever. If you are looking for a long-term game plan to dominate your market place, organic SEO is definitely the way to go.
Minds Over Media will tailor an Organic Search Engine Optimization strategy to improve your search engine rankings, increasing your reach and visibility to the 85% of searchers who click on organic search engine results.
Search Engine Optimization (SEO)
We can improve your website's rankings on natural search engine listings. Search Engine Optimization (SEO) is the art of gaining top positions on search engines such as Google, Yahoo!, and Bing when people are searching with keywords related to your company's products/services in the areas you serve. SEO is an extremely cost effective way of generating traffic to your website on leading search engines.
Our Experience
We've been providing search engine optimization solutions for small, medium, and large companies since 2008. We have the know-how and tools to help bring highly targeted visitors to your site — visitors who are actively seeking to buy exactly what you sell.
Search Engine Optimization Process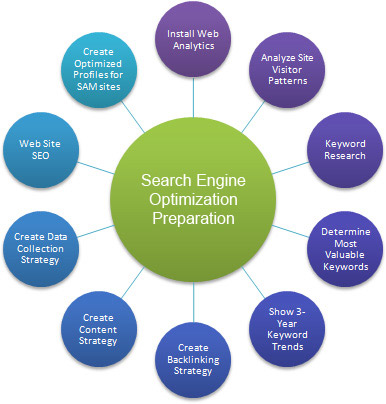 Competitor Analysis
Keyword Research and Selection
Content
On-Page Optimization
Site Structure
Link Building
Social Media
Statistics Analysis
Conversion Optimization
Re-Optimizing
Keeping Up
Accepted Methods
While SEOs can provide clients with valuable services, some unethical SEOs have given the industry a black eye through their overly aggressive marketing efforts and their attempts to manipulate search engine results in unfair ways. These unethical methods may result in a negative adjustment of your site's presence in Google, or even the removal of your site from our index. Minds Over Media adheres to the accepted practices and guidelines of Google, Yahoo!, Bing and other search engines.
If you're thinking about hiring an SEO, the earlier the better. A great time to hire is when you're considering a site redesign, or planning to launch a new site. That way, you and your webmaster SEO can ensure that your site is designed to be search engine-friendly from the bottom up. However, a good SEO can also help improve an existing site.
Contact Us:
Minds Over Media LLC
303-521-6681 (tel)
866-667-8646 (fax)
Email Us